1-4. BLOOD AND NERVE SUPPLY OF THE HEART
a. Coronary Arteries. The heart gets its blood supply from the right and left coronary arteries (Figure 1-3). These arteries branch off from the aorta just above the Aortic Valve, then subdivide into many smaller branches within the heart muscle. If any part of the heart muscle is deprived of its blood supply through interruption of blood flow through the coronary arteries and their branches, the muscle tissue deprived of blood cannot function and will die. This is called myocardial infarction (MI). Blood from the heart tissue is returned by coronary veins to the right atrium via the coronary sinus.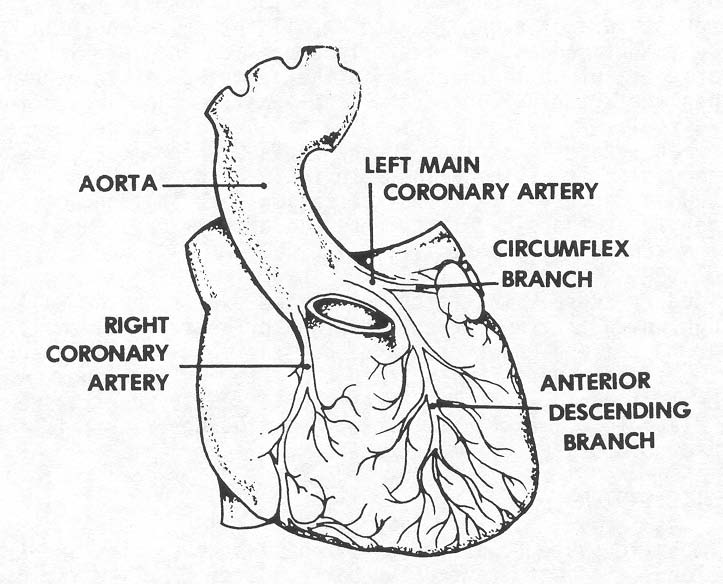 Figure 1-3. The coronary arteries.
b. Nerve Supply. The nerve supply to the heart is from two sets of nerves originating in the medulla of the brain. The nerves are part of the involuntary (autonomic) nervous system. One set, the branches from the vagus nerve, keeps the heart beating at a slow, regular rate. The other set, the cardiac accelerator nerves,
speeds up the heart. The heart muscle has a special ability; it contracts automatically, but the nerve supply is needed to provide an effective contraction for blood circulation. Within the heart muscle itself, there are special groups of nerve fibers that conduct impulses for contraction. These groups make up the conduction system of the heart. When the conduction system does not operate properly, the heart muscle contractions are uncoordinated and ineffective. The impulses within the heart muscle are tiny electric currents, which can be picked up and recorded by the electrocardiogram, the ECG.